Whether your child is at stage 1 or stage 3, there's something here for them.
As a busy parent, time isn't always on your side. Making baby food from scratch can be stressful and time consuming, especially when it comes to appeasing picky eaters. Luckily, there are several pre-made organic baby food options that take the guesswork out of feeding your child.
Since the National Organic Program of the USDA has developed strict rules and regulations that govern USDA certified organic foods, those carrying the USDA organic seal cannot contain GMOs or any artificial preservatives, colors or flavors. And certain studies show that organic fruits and vegetables have significantly more antioxidant polyphenols than conventionally grown produce. Encouraging an abundance and variety of fruits and vegetables at all ages is key, but organically grown produce can provide some additional benefits without the GMOs or preservatives.
And speaking of ages, our nutrition experts point out that baby food stages aren't standardized but there are general guidelines that many brands utilize. Keep in mind that every baby develops differently, and some babies are ready for stage 2 before they are 7 months old, while others may not be ready until they are closer to 10 months old. Talk to your pediatrician to help guide you throughout the process, and remember that it's important for babies to advance through the stages on their own time.
As a general rule of thumb, Stage 1 foods generally consist of a single ingredient purees and are ideal for babies ages 4-6 months. Stage 2 foods are best for babies ages 6-9 months and start to incorporate more than one ingredient. Stage 3 foods are for babies 9-12 months, and they feature a lot of different textures and new flavors. Stage 4 foods are for babies at least one year of age and typically indicate that table food can be introduced.
A note on heavy metals in baby food: If you've heard about concerns regarding heavy metals in baby food, it's important to know that they are naturally occurring and enter the food supply from natural sources like soil, water and air. It is nearly impossible to completely avoid these metals, but parents can minimize the risk by feeding their baby a variety of foods. Opt for grain-based cereals and snacks instead of rice-based options and be sure to limit fruit juices. Our experts say you can and should keep giving carrots and sweet potatoes because they contain important nutrients, but given that they grow in the ground, they may naturally contain higher levels of heavy metals so be sure to serve them along with other fruits and vegetables.
To make sure you're giving your child the very best, we put several brands to the test through a panel of kids, moms and editors to see which organic baby food products are the best for your baby. We've also included information on what measures each brand is taking regarding minimizing heavy metals in their products. Here are the best organic baby foods of 2022:
Organic Fruit & Veggie Blend Baby Sampler
This line of baby food pouches and cups was co-founded by Jennifer Garner. Every ingredient is certified USDA organic and sustainably grown. Our nutrition pros say that Once Upon A Farm sets themselves apart from the other brands we reviewed due to the cold-pressed process that the blends utilize to lock in the nutrients, taste and texture of the farm-fresh ingredients. Testers said their littles loved the flavors, and one parent said she liked that the packs needed to be refrigerated, which made her feel that they were "very high quality."
Once Upon A Farm are the first baby and kids food brand to receive the Clean Label Project Purity Award, a third-party nonprofit that tests for over 400 environmental and industrial toxins including heavy metals. Their new Advanced Nutrition Blends for baby has the 1,000 Day Promise from the Clean Label Project too which is the first U.S. certification that requires heightened nutritional elements and regulation of heavy metals, toxic compounds and melamines found in baby food.
Organic Baby Puree Pouches
Founded by a practicing neurosurgeon, this line of organic baby food from Cerebelly focuses on incorporating 16 brain-supporting nutrients into every product, ranging from pouches to snack bars. Our dietitians point out that the organic products are veggie forward and contain no added sugar. Parent testers appreciated the "thoughtful and healthful combinations," and babies loved them too. They also offer a line of savory bone broth purees with 5 grams of protein in every pouch for children 11+ months.
Cerebelly pouches have the Clean Label Project Purity Award, which means they have been tested for over 400 contaminants including heavy metals, chemicals, plastics, pesticides and more.
Organic Fruit Puree
HOLLE USA
The beloved European baby food brand is now bringing their organic products to the U.S. Holle USA offers organic fruit and veggie pouches, and more. Our nutrition pros appreciate that the brand utilizes raw ingredients grown to biodynamic and organic standards. Parents love that the pouch packaging is made without BPA.
In addition to meeting European standards, Holle USA Organic Fruit and Veggie Purees are also FDA approved and follow a strict set of agricultural standards to meet the Demeter certification. Demeter-certified products guarantee that the ingredients used are grown on regenerative farms that prioritize soil health, GMO-free agriculture, respect for the nature of animals, biodiversity, ecological responsibility, and social responsibility.
Pouches & Jars
HAPPY FAMILY ORGANICS
Mom Shazi Visram founded Happy Family Organics to provide a wide variety of healthy organic baby food options to parents. Our nutrition pros love that the brand offers 100% USDA organic pouches and jars (including a new organic and regenerative line), as well as hearty meal pouches for Stage 2, and organic oats cereal. Both the pears, zucchini and peas pouch and the apples, guavas and beets pouches were a hit. As your child continues to grow, they can enjoy even more Happy Family Organics products, including teethers, puffs, crackers, veggie straws, meal bowls, made simple mixes and more.
In the absence of science-based federal standards for all products, Happy Family shared with Good Housekeping that they set internal goals to reflect the FDA guidance that does exist. They also implement best practices from industry experts, and press their suppliers to find farms around the country and the world with the lowest possible presence of these elements, which are naturally occurring, in the soil.
Organics Pouches
PLUM
Plum Organics shared with Good Housekeeping that Sun-Maid conducted rigorous due diligence on the Plum Organics brand before their recent acquisition. They continue to work with the subcommittee – as well as the industry at large – to address these matters and ensure Plum Organics remains the very best food from the first bite. "We are actively evaluating our processes and products to create the best possible baby food options," a spokesperson from Plum Organics told us.
Little Journey Pouches
ALDI
Your favorite supermarket ALDI is at it again with their line of Little Journey baby pouches and snacks. Our nutrition pros love that the pouches are all 100% USDA organic and boast delicious and nutritious combinations for your baby. As your child continues to grow, they can enjoy Little Journey munchers, yogurt bites and puffs.
Moms loved the price point on these Little Journey Packets and that they have no artificial colors or flavors, which are some of the many reasons why ALDI-exclusive Little Journey baby and toddler essentials have earned the Good Housekeeping Seal.
Some of the pouches are even made with whole milk yogurt. Pro tip from one of our moms: Her 8-month-old doesn't normally like any fruit, but she mixed the apple blueberry Little Journey packet in her baby's cereal to sneak some in and it was a hit.
Organic Baby Food Pouches
Our nutrition experts rave about these organic plant-based meals in powder form. The method Amara uses does not require repeated high heat processes. Just add water, formula or breastmilk to the mix and you have a healthy meal ready for your little one in seconds. Testers loved that the wholesome offerings were conveniently shelf-stable and featured unique superfood combos like applesauce with maqui berry.
Amara shared with Good Housekeeping that they individually source each baby food ingredient so they have the opportunity to deeply work with suppliers and sourcing in efforts to minimize heavy metal exposure in their food. They also do not use any rice products, additives, preservatives or ingredients that are traditionally known for heavy metals.
Organic Pouches & Freshful Start
GERBER
Gerber shared with Good Housekeeping that they have taken many steps to reduce the levels of heavy metals in our products. Specific actions include rigorous testing of ingredients and finished products, continuously seeking ingredient sources with the lowest heavy metal levels, removing rice as an ingredient in their multigrain infant cereal and replacing whole grain rice with rice in their organic rice cereals. They also actively engage with FDA and other stakeholders to help establish strict standards for heavy metals in foods consumed by young children to minimize exposure.
Little Spoon
This subscription-based baby food service brings a unique twist to the traditional baby food we see on the market. Our nutrition pros appreciate that the organic baby blends feature nutritious ingredient combinations including chia seeds, buckwheat, pumpkin seed and hemp seeds. Plus, they offer a line of small packs called boosters that act as nutritional supplements to mix into your baby's food that our mommy testers loved. You can select from four different types of boosters that are carefully sourced with vitamins, minerals, probiotics and organic produce.
Their line of Babyblends purees are now Clean Label Project verified, which tests for over 400 industrial environmental contaminants including heavy metals and more.
Blends
Testers love that these USDA organic purees, finger foods and snacks are thoughtfully made and delivered right to your door. This organic meal delivery service for littles is free from the big nine allergens too. What's more, they offer options for stage 1 through 7 and snacks as well. Our pros appreciate that Yumi features a guided program that introduces 3-4 new flavors each week, ultimately introducing 100+ different ingredients for a healthy eater.
Yumi is also a recipient of the Clean Label Project Purity Award, a third party organization that tests for over 400 environmental and industrial toxins, including heavy metals.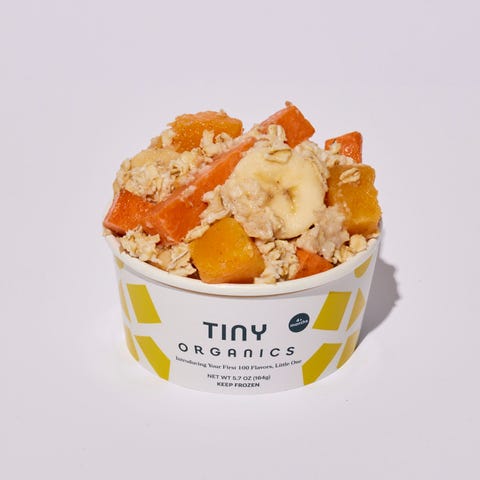 TINY ORGANICS
These organic baby and toddler meals are conveniently delivered to your door and are packed with super nutrients. Our nutrition pros and testers both love that Tiny products are free from the big 8 allergens. Curated by a team of chef and neonatal nutritionists, the meals are made fresh and shipped frozen. Their new Tiny Beginnings product line has six different plant-based baby meal options to choose from and is created for 4-8-month-olds.
When sourcing ingredients, Tiny's team shared with GH that they require the farmers to provide heavy metal tests on the lots from the year prior and when they harvest the new lot. The team also does internal lab tests on specific ingredients to make sure it is within the brand's specifications. All ingredients are all sustainably sourced within the US from local farms to reduce carbon footprint and are USDA-certified organic.

Registered dietitians in the Good Housekeeping Institute Nutrition Lab evaluated dozens of baby food products, specifically analyzing ingredient lists and nutrition labels. Our nutrition experts prioritized USDA Certified Organic options made with wholesome ingredients and free of artificial preservatives, colors or flavors. We also investigated efforts that the brands are making to minimize heavy metal exposure in their products. In addition to expert analysis, we recruited a panel of parents and little ones to provide real-life feedback on quality, variety, portion sizes, convenience, packaging and more. We're confident that our top picks are the best organic baby food options to provide exceptional nourishment and quality.
Why trust Good Housekeeping?

As deputy director of the Good Housekeeping Institute Nutrition Lab for the past two years, Stefani Sassos, MS, RDN, CSO, CDN, NASM-CPT handles all nutrition content, product testing and evaluation. She stays up to date on the latest research to provide evidence-based reporting on all things diet and nutrition, and she also runs large-scale tests and analysis for products ranging from protein bars to supplements. She has a master's degree in clinical nutrition from New York University and has been a registered dietitian for six years, working in the clinical setting prior to Good Housekeeping and obtaining advanced credentials and board certifications in the nutrition field. As a new mom to a 6-month-old baby girl, Stefani is personally invested in thoroughly vetting and testing baby food products for her family and yours.